There are a great many things I love about infomercials, but generally not included on that list are the actual products being sold. No offense to the (I'm sure very hard-working) marketing department at the infomercial mothership, but when you sell kitchenwares with names like Dump Dinners and Curl-a-Dog I'm not exactly reaching for my wallet.
However, I seem to have stumbled across the as-seen-on-tv holy grail – A product with both a ridiculous commercial and actual functionality.
Yes, that's right. It seems you can have it all. (Provided your definition of "all" includes laughing at an ad while microwaving a potato.) The aptly-named Potato Express is a single-function product that is designed to bake potatoes in the microwave. It's a no-frills contraption – essentially a quilted pouch that insulates the potato and steams it into submission.
They claim that you can cook up to four full-sized potatoes in four minutes, and based on reviews I've read I'd say that's a bit of a stretch. But being a single potato-loving lady, this faulty spud math doesn't really bother me. I have successfully cooked a large potato (or sweet potato) or two to three smaller potatoes in their advertised time frame.
Once your potato is cooked through, they have a lot of ideas about what you could do with it. I derive great joy from imagining someone cramming a bunch of marshmallows in the pouch with the potato and wondering why it doesn't look like the picture when they pull it out.
But also, all kidding aside, it's actually an amazingly useful product. Sometimes I'll cook myself a few baby taters to go with eggs for breakfast. I've made a sweet potato to use as a base for taco fillings. This afternoon I went from zero to cheesy lunch potato in exactly four minutes.
Does it taste as good as an oven-baked potato? Honestly, almost. Obviously the skin doesn't get wonderfully roasted. But I know plenty of people who skip eating the potato skin anyway. Otherwise, at least in my experience, the flesh cooks up with exactly the same texture in the microwave as it does when you spend an hour waiting for the oven to do it.
So, in summary: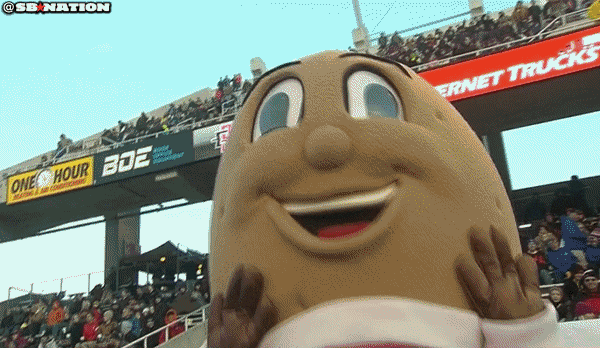 You can order one directly from the As Seen on TV folks for $9.95, or I've also seen them available in-store at both Bed Bath & Beyond and Target.